SONY VIDEOCORDERS

& ACCESSORIES

APPEARS TO BE FROM 1966

Today's most advanced video tape recorders in the $1000 and under class have proved their reliability in hundreds of business and educational applications.

Model CV-2000 Portable Deck -Most compact and portable video tape recorder ever designed. Housed in a handy carrying case and weighing only 46 lbs.

Model CV-2000D Deck-An economical approach to video tape recording. This compact unit is housed in a sturdy, handsome walnut-finish cabinet.

Model TCV-2010-The pioneer model in the field. This complete, self-contained unit includes a video tape recorder, 8·inch (measured diagonally) receiver/monitor in its own portable carrying caSe.

Model TCV-2020-Handsomeoil-finish walnut cabinet. Built-in timer can be set to record programs in user's absence. Has built-in receiver/monitor.

Camera Ensemble VCK-200o-Solid-state Video Camera with f/1.9, 25mm, "C" mount lens, elevator tripod, dynamic microphone, and extension cords in a handy carrying case. The camera records 'live' action in any illumination from standard room lighting to broad daylight, and adjusts automatically to changes in light.

Video Tape-Highest quality, half-inch tape made by Sony, one of the world's leading tape manufacturers. V·31 half-hour playing time on 7" reel 1240 ft. V·32 one-hour playing time, 2370 ft.

Other Accessories-Complete line extends application of the Videocorders. lenses (telephoto, wide angle and zoom) and a camera selector for professional results. Two high-definition, channel 2 to 83 receiver/monitors: a portable and a large· screen model. Branch cords for feeding additional monitors and cables for operating the camera, microphone, or monitors at varying distances from the Videocorder .

Sony Corporation of America, 47-47 Van Dam St., N.Y, N.Y. 11101

Showroom: 585 Fifth Ave., N.Y.C., Regional Offices: 500 W. Florence Ave., Inglewood, Calif. 90307 • 5551 N. Milton Parkway, Rosemont, III. 60018

PRINTED IN U.S.A. SONY AND VIDEOCORDER ARE REGISTERED TRADEMARKS OF THE SONY CORPORJ\TI0N. THE SONY VIDECCORDER IS NOT to BE USED TO RECORD COPYRIGHTED MATERIAL #VCFL-1t68
---
INSTANT MOVIES WITH
SOUND USING SONY
VIDEOCORDERS
INSTANT MOVIES WITH
SOUND USING SONY
VIDEOCORDERS
A Sony Videocorder provides the basis for a complete TV studio, With it you can take TV pictures and sound right off-the-air and put the.m on tape, With the optional TV camera and microphone plugged in, you can do the same with 'live' action, And when you're done, simply rewind and you're ready to play back pictures and sound - instantly, It's as easy as operating an ordinary tape recorder.
With the Video Camera Ensemble you can record 'live' action in normal room lighting or broad daylight and play back the recorded material through a monitor or TV receiver in both sight and sound, This makes possible the recording of hundreds and hundreds of situations which can be used in business/ education and science applications,
You can also record selected TV programs off-the-air for playback any time presidential speeches, educational programs, space launches, TV commercials anything that will be of interest to your associates in business, your students in school. You can even record programs while you/re away or while watching other programs, and play them back at your convenience,
An important feature of these units is tape interchangeability. Any tape recorded on one Sony Videocorder can be played back on any other Sony Videocorder, For example, a recording made at company headquarters can be distributed to any division or branch where a Videocorder is available, Similarly, educational institutions can exchange tapes with other schools,
A wide range of accessories is available so that the user can produce the most effective and professional results when taping 'live' action with the camera, Sony offers precision wide-angle, zoom and telephoto lenses. A camera selector permits the use of two cameras to record different views of the same scene for close-up or long shots at the flick of a switch,
Economy of operation is another important feature of the Videocorder, These decks employ the ingenious Sony alternate-field scan and repeat-field playback system making it possible to operate the tape at a slow 71/2 ips speed, An hour of program material can be recorded on a 7-inch reel at a cost of less than $40. And the tape can be erased and used again and again.
Sony offers four Videocorder models in the thousand-dollar and under price range that make possible video tape applications formerly considered economically impractical. Further, the compact size of these units make them easily transportable almost anywhere .... another feature that adds to their versatile application.
FEATURES
o Record programs off-the0air and play them back instantly in sight and sound, or store them for later use.
o Record 'live' action in almost any kind of lighting/ indoors or outdoors, when used with video camera,
o Can be operated with almost any number of monitors for presentation to large groups, or for distribution of pictures to individual rooms,
o Priced in the $1000 and under range to make possible applications formerly considered uneconomical. (A basic TV studio- camera, deck and monitor- costs under $1400)
o 100% interchangeability-tapes recorded on one Sony Videocorder can be played back on any other Sony Videocorder.
o Compact, lightweight, instantly transportable for use almost anywhere- indoors and outdoors,
o Low cost operation-an hour of program material costs less than $40 and can be erased and used again and again -less than the cost of processed black-and-white 8mm movie film,
o Clean, sharp play back-'live' action or off-the-air recordings,
o Solid-state reliability-designed by the leader in transistor technology, Combines trouble-free, solid-state electronics with rugged transport mechanism.
o Portable, solid-state TV camera for excellent 'live' action recordings,
o Wide selection of Videocorder models/ high definition monitors and accessories for broadest application.
---
UNLIMITED VIDEOCORDER APPLICATIONS:
Business & Industry: Sharpen up sales techniques by letting salesman observe their own performance. Add dramatics and reality to sales presentations. Train workers in repetitive assembly line operations. Recording sales meetings for review by other divisions. Improve security systems by having a record of what the camera sees. Improve the performance of students at dance, dramatic and charm schools. Make advertising and sales presentations; record advertisements on out-of-town TV stations for later evaluation; preview commercials in their early stages. Record tests

of prototype equipment and development work for review by the home office or others who should see it Observe operations in hazardous or inaccessible areas and record results. Record data observed by distant cameras and telemetering set-ups.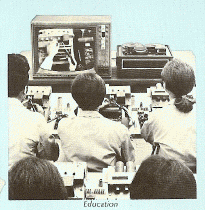 Education: Store educational material like lectures and lab work for replay at a later date or for use in other schools. Overcome scheduling problems by being able to replay program material at the most convenient time. Improve instruction in language labs, dramatic, public speaking, athletic or other training situations. Brief new students by showing them how to use the library and other school facilities. Improve athletic performance of students and team athletes. Train new teachers and improve techniques of older ones.
Science and medicine: Record experiments and play them back instantly for study or show them at a later date to a large number of viewers. Record operations for later replay for benefit of interns and students unable to get a good view. Tapes can be sent to other hospitals. (Caution must be. exercised not to use the units near volatile gases.) Record reactions of patients as they were at the beginning of treatment and as they progress-valuable in psychiatric, orthopedic and similar work.
Law enforcement: Record reactions of suspects or witnesses for later study. Identify suspects. Police can distribute tapes to other police departments, for more positive identification of suspects.