In Memoriam...James M. Early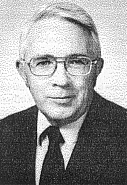 Jim was a friend of the museum and a mentor to me during the formation of it back in the days it occupied some shared space with Computer Exchange Inc. in the old industrial part on Desert Cove in Phoenix Arizona.
Jim wrote several articles and spent extensive time editing on Volume #2 and #3 of "VINTAGE ELECTRICS.
His background at Bell Laboratories proved invaluable when we cataloged some of the more obscure artifacts in the K. D. Smith Collection. K. D. Was his first supervisor at Bell Laboratories.
His words always possessed wisdom and humor, Jim we will miss hearing you...
-Ed Sharpe, Archivist for SMECC
---
The Associated Press
1/15/2004, 5:11 p.m. ET


PALO ALTO, Calif. (AP) -- James M. Early, an electrical engineer and inventor best known for his pioneering work with transistors, has died. He was 81. Early died Monday at a veteran's hospital in Palo Alto.


Early created much of the design theory of bipolar transistors at Bell Laboratories in Murray Hill, N.J., where he worked for Nobel Prizewinner William Shockley.

Early was born in Syracuse, N.Y., the second of nine children. He worked for 18 years at Bell Laboratories, where he also discovered the effects of space-charge layer widening, which became known as "The Early Effect."

In 1969, Early moved to Palo Alto to work at Fairchild Semiconductor as vice president of research and development. Early held 14 patents by the time he retired in 1986 from Fairchild.

Fairchild Semiconductor, created in 1957 by eight scientists who originally were brought out from the East Coast by Shockley, revolutionized the chip industry and became the entrepreneurial breeding ground for several other companies, including Intel Corp., National Semiconductor and Advanced Micro Devices. Those eight scientists left Shockley to create Fairchild Semiconductor.

"What strikes me ... is how he made time for family," his daughter, Rhoda Alexander, said Thursday. "He built us a sandbox."

Early, who biked to work, was a voracious reader and also took the family swimming, sailing and on hikes, Alexander said. He also volunteered to make recordings for the blind from technical manuals and journals.

Early is survived by his wife, Mary Agnes; seven daughters, a son, 11 grandchildren, eight brothers and a sister.
---
From Jim's Biographical Info In the Museum's Articles....
James M. Early was born (July 25, 1922) in Syracuse, New York, second of the nine children of Rhoda G. Early and the late Frank J. Early. He received the B.S. in Pulp and Paper Manufacturing in 1943 from the New York State College of Forestry (Syracuse). After army service at Ohio State University and the Manhattan Engineer District, Oak Ridge, Tenn., he returned to O.S.U. as a graduate student and instructor in Electrical Engineering. He received the M.S. (magnetron resonances) in 1948 and the Ph.D. (anisotropic dielectric waveguides) in 1951.
He joined Bell Laboratories in September 1951. During his eighteen years at Bell, he created much of the design theory of bipolar transistors, discovered the effects of space-charge layer widening ("Early effect"), created the oscillator transistor for the first U.S. satellite, led development of solar cells and transistors for Telstar I, and led the development of sealed junction technology as part of Bell Lab's first major IC work, ending his Bell Labs service as Director of the Electron Device Laboratory at Allentown, Pa. He joined Fairchild in September 1969 as leader of their research and development work. Under his direction and often with his significant personal contributions, Fairchild Research Center created the isoplanar bipolar process and the prototype of the its isoplanar memory products, created the buried channel CCD imagers which have revolutionized low light level electronic imaging, created the prototypes of the 4000C series of 15 volt CMOS, created the 100K series of ECL, and contributed to the creation of FAST. His leadership brought Fairchild the first ion implanter in a merchant semiconductor manufacturing company (1970) and the first commercial electron beam mask-making machine (MEBES 1 - 1977). He became a technical adviser in mid-1983 and retired from Fairchild at the end of 1986.
He is a fellow of IEEE (1958), a member of APS, AAAS, and Sigma XI. His IEEE service includes the Fellow Committee, ED Adcom, ED Transactions, IEEE PROCEEDINGS, and SPECTRUM. He is an IEEE representative on the Fritz Medal committee of the IEEE.
He has published numerous technical papers and holds fourteen patents.
He was associated with the Advisory Group on Electron Devices (ODDR&E) since 1962 to 1982 and was its chairman for four years.
Jim and his wife, Mary Agnes, of 42 happy years live in Palo Alto, California. Their pastimes include duplicate bridge, bicycling, swimming, and reading.
Read Articles By James M. Early on:
K. D. Smith - Memories
- from SMEC Vintage Electrics Volume #2 1990

Telstar I - Dawn of a New Age
- from SMEC Vintage Electrics Volume #2 1990