Wear The "CHIMES" and great
catalog of NBC Labeled Promo items
The Cover
You've heard the NBC Chimes on radio; you've seen them on television. At this moment, you're reading a publication bearing that name. Now, you can wear them as well. Whether or not you can wear them as handsomely as does NBC guidette Lorna Underwood, who graces the cover of this issue of CIHIMES, is uncertain, but don't let that stop you. As an NBC employee, you are entitled to purchase products such as the NBC tee-shirt and pennant at a considerable discount.
Several issues ago CHIMES carried the story that NBC was embarking on a program of developing products that were outgrowths of NBC's broadcasting activities. The article featured pictures of the Radio City souvenir counter w here these items were being put on sale. Many NBC employees have since visited this little store to examine and buy some of the scores of products on sale there. Cover girl Lorna Underwood is also the sales girl behind the counter.
Now, for the benefit of employees in other NBC cities, and for NBC New Yorkers outside of Radio City, we have included in this issue of CHIMES a special added section (pages 11, 12, 13, 14) which showcases some of the merchandise, along with prices and instructions on how to order it.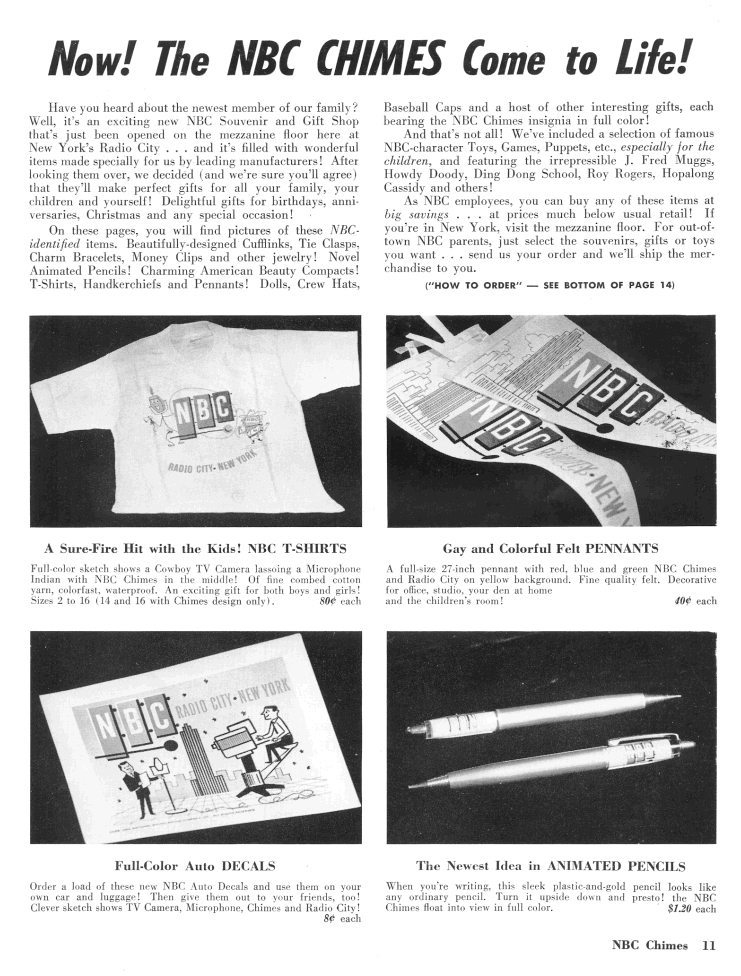 Now! The NBC CHIMES Come to Life!

Have you heard about the newest member of our family? Well, it's an exciting new NBC Souvenir and Gift Shop that's just been opened on the mezzanine floor here at New York's Radio City . . . and it's filled with wonderful items made specially for us by leading manufacturers! After looking them over, we decided (and we're sure you'll agree)

that they'll make perfect gifts for all your family, your children and yourself! Delightful gifts for birthdays, anniversaries, Christmas and any special occasion!

On these pages, you will find pictures of these NBC identified items.

Beautifully-designed Cufflinks, Tie Clasps, Charm Bracelets, Money Clips and other jewelry! Novel Animated Pencils! Charming American Beauty Compacts! T-Shirts, Handkerchiefs and Pennants! Dolls, Crew Hats,

Baseball Caps and a host of other interesting gifts, each bearing the NBC Chimes insignia in full color!

And that's not all! We've included a selection of famous NBC-character Toys, Games, Puppets, etc., especially for the children, and featuring the irrepressible J. Fred Muggs, Howdy Doody, Ding Dong School, Roy Rogers, Hopalong Cassidy and others!

As NBC employees, you can buy any of these items at big savings . . . at prices much below usual retail! If you're in New York, visit the mezzanine floor. For out-of-town NBC parents, just select the souvenirs, gifts or toys you want . . . send us your order and we'll ship the merchandise to you. ("HOW TO ORDER" - SEE BOTTOM OF PAGE 14)