HITACHI MP-EG1, MP-EG1A, MP-EG10 - 1997. World's first digital camera which could output moving pictures to a personal computer in the MPEG format.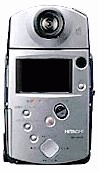 The Hitachi MPEG1A, is capable of recording 20 minutes of real-time MPEG-1 video, 3,000 JPEG still images, or 1,000 still images with 10 seconds of audio for each still. It permits PC and Mac users to add video and still images to Web pages, in-house training videos, presentations and other Internet and intranet applications.


The Hitachi MPEG1A camera records video and audio in MPEG-1 format and stores the data on a 260 MB PCMCIA card. ISA and SCSI adapter kits allow recorded video to be transferred to a PC or Mac. At 19.3 ounces, the camera is smaller than a conventional camcorder. All of its functions, such as real-time compression, full motion video and playback, are handled by a single chip -- the MPEG1 encoder/decoder (CODEC) LSI, developed by Hitachi, Ltd. Suggested retail, including the PCMCIA card, is $2,399.95.
Hitachi MP-EG1A Camera w/wrist strap
Hitachi 260mb PCMIA hard disk drive, model MP-HD260
Noteworthy 340mb Card hard disk drive, model NWHD340
AC adapter/charger (MP-AC1A)
DC power cord
2 – Battery Packs MP-BP1A
Remote control (MP-RM1A)
Sunshade for LCD screen
Camera Soft Carrying case
Accessory carrying case.
Hitachi MP-EG1A Instruction Manual