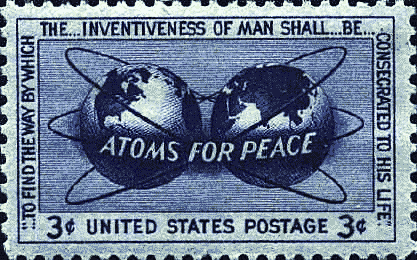 'Atoms for Peace' Stamp'
On July 28, 1955, on the eve of the International Conference on Atomic Energy in Geneva, Switzerland, the U.S. Post Office issued this "Atoms for Peace" stamp designed by George Cox, a technical illustrator in Brookhaven National Laboratories Photography & Graphic Arts Division.
Earlier that year, Cox had responded to President Eisenhower's request for a design to commemorate the Atoms for Peace Program, and his rendering was selected as the best of those submitted by illustrators throughout the nation.
(Text adapted from the Brookhaven National Laboratory publication "THE BULLETIN" Vol. 56 - No. 5 February 15, 2002)
---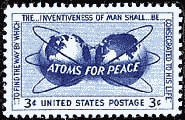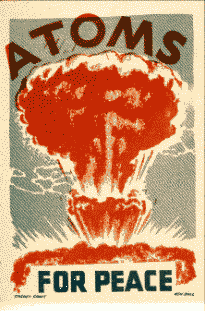 Cachet from a 'First Day of Issue' Envelope,
Atoms for Peace Commemorative US Stamp, July 28,1955.